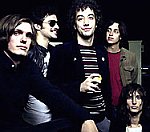 The Strokes
have hinted that they may release another album before the end of 2011.
The group are scheduled to release 'Angles', the much-anticipated follow-up to their 2006 album 'First Impressions Of Earth', on Monday (March 21).
But in an interview with Shortlist magazine, the group hinted that it may not be the last batch of new songs fans hear from them in 2011.
"There's material in the works. We have a lot of music stockpiled so, in terms of content, we're in a good place right now," guitarist Nick Valensi said.
"If I had it my way, we'd have another album out by the end of this year."
Singer Julian Casablancas added: "I think we're going to start working on stuff as soon as possible. We were supposed to already, but it took longer than expected to master the album.
"I didn't want to work on Strokes No 5 until Strokes No 4 was done."
The full interview with the band features in this week's Shortlist.
(by Jason Gregory)