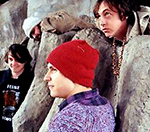 Альбом «
Merriweather Post Pavilion
» американских инди-рокеров
Animal Collective
возглавил рейтинг лучших пластинок 2009-го года, инициированный британской сетью магазинов HMV. Победитель определялся на основе списков лучших дисков, составленных критиками и журналистами авторитетных музыкальных изданий – таких как Mojo, Uncut и т.д. «Merriweather Post Pavilion» получил 13 номинаций из возможных 34-х.
На втором месте в суммарном рейтинге HMV очутился альбом «It's Blitz!» нью-йоркцев Yeah Yeah Yeahs, «бронзовым призером» стал одноименный дебютный лонгплей The XX. Далее разместились бруклинские рокеры-экспериментаторы Dirty Projectors с релизом «Bitte Orca», Grizzly Bear и их «Veckatimest» и Horrors с работой «Primary Colours». В десятке лучших также засветились пластинки Florence And The Machine, Bat For Lashes и Wild Beasts.
Получивший звание лучшего релиза года от журнала Q «West Ryder Pauper Lunatic Asylum» Kasabian финишировал лишь на 29-м месте, а лауреат Mercury Music Prize этого года – «Speech Therapy» рэпперши Speech Debelle – и вовсе не вошел в Топ-50 сводного «чарта».
Рейтинг HMV-2009:
F*** Buttons «Tarot Sport»

Sun O))) «Monoliths and Dimensions»

Martyn «Great Lengths»

HEALTH «Get Colour»

Telepathe «Dance Mother»

Micachu And The Shapes «Jewellery»

Japandroids «Post-Nothing»
(@Music)