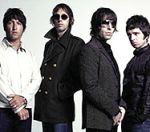 Chris Sharrock,
Robbie Williams
' drummer, is to replace Zack Starkey as the drummer in
Oasis
, according to reports.
Sharrock has apparently grown tired of waiting for his employer to release new material and has joined on the request of the Manchester band.
The claims, in today's Mirror newspaper, come just three days after reports that said Starkey and Oasis guitarist Noel Gallagher had fallen out with each other.
Zarkey, who is the son of former Beatle Ringo Starr, has been an unofficial member of the band since 2004 and is their third drummer.
In today's Mirror, an unnamed source says Sharrock's introduction is "sure to infuriate" Williams, who's had an ongoing feud with Oasis throughout his career.
"Everyone thinks Chris has had enough of sitting on the picket line and not playing music," they added.
"Oasis aren't striking against anyone so at least he'll be getting a bit of action now."
(by Jason Gregory)