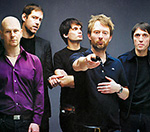 Radiohead
have released two new songs 'The Butcher' and 'Supercollider' as a free download.
The tracks were originally released as a two-track 12" vinyl on Record Store Day (April 16).
In an statement, Radiohead said they were making the songs available for free to people who bought recent album 'The King Of Limbs'.
"It's a thank you for being SO supportive of what we do," they said, adding: "This is not part of a new loyalty points scheme, a Radiohead clubcard or even an air miles redeemable reward type thing...It is just a big old-fashioned thank you!"
The group also revealed that 'The Butcher' was recorded and mixed during 'The King Of Limbs' sessions but that "we couldn't make it work on the album".
'Supercollider' was started during the same sessions and completed in March this year.
(by Jason Gregory)