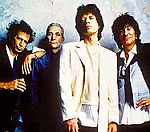 The Rolling Stones
will almost certainly not be heading out on tour this year, according to reports.
Keith Richards and frontman Mick Jagger are supposedly no longer on speaking terms after comments made by Richards in his recent autobiography, the Daily Record reports.
Richard's book 'Life' has proved hugely popular, and is currently one of online retailer Amazon's best sellers.
He has insisted that his relationship with Jagger is still strong, despite his frank recollection of the past, including the size of Jagger's manhood, covered in his book.
A spokesperson for the Rolling Stones last year played down reports the band are set to record a new album and go on tour this year.
The Rolling Stones last tour, Bigger Bang, concluded in 2007.
(by Holly Frith)