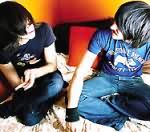 Death From Above 1979
are set to play a one-off gig in London in May, it's been announced.
The gig at the Forum in Kentish Town on May 5 will mark Sebastien Grainger and Jesse Keeler's first show in five years.
The Toronto-based band have only released one album, 2004's 'You're a Woman, I'm a Machine', which received critical acclaim and was certified gold in Canada in July 2006.
Grainger said: "Jesse and I have decided that what we can do together should not be denied. Together again, as was always the intention, as a collaboration.
"The collision of two different worlds. As this all takes shape, we will reveal it to you. All of it happening, as it always has, in our own way."
News of their comeback has been greeted positively by fans on the social networking website Twitter.
Tickets go on sale on Friday (february 11) at 10.
(by Jason Gregory)