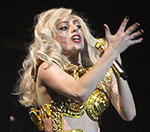 Lady Gaga
has revealed that she has played a finished version of her new album '
Born This Way
' to her record label.
The singer made the announcement on Twitter after an unknown billionaire donated $500,000 to a campaign to get her to tweet again.
Lady Gaga and a host of other celebrities have vowed to remain silent on the social networking website as part of a campaign for World Aids Day.
But in her first post since returning, Lady Gaga said: "Havin a little too much fun on tourbus. Played the album for label, the rest is History. Amen Hooker"
Lady Gaga is due to release the first single from her new album in February.
In a recent video message, the singer described 'Born This Way' as being like "bad kids going to church, having fun on a high level".
(by Jason Gregory)