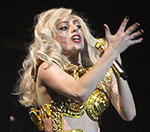 Lady Gaga
has sparked controversy after she posed for a magazine wearing an outfit fashioned from raw meat.
The image, captured by photographer Terry Richardson, appears on the front cover of September issue of Vogue Hommes Japan.
Animal welfare group People for the Ethical Treatment of Animals (PETA) has condemned the photograph.
"Oh, Lady Gaga's job is to do outlandish things, and this certainly qualifies as outlandish because meat is something you want to avoid putting on or in your body," PETA President, Ingrid Newkirk told the New York Daily News.
The issue also features an interview with Lady Gaga, in which she discusses her music videos and ongoing Monster Ball tour.
The singer is currently on the latest North American leg of the jaunt.
(by Jason Gregory)