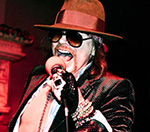 Festival organisers have confirmed that Axl Roses Twitter account was hacked and that Gun N' Roses will definitely be performing at this years Reading and Leeds festivals.
The bands appearance had been thrown into some doubt after Axl Rose appeared to claim on Twitter that all forthcoming GN'R tour dates had been cancelled.
It has now been confirmed by the organisers of the Reading and Leeds festivals however that the Tweet was the result of a hack and that Axl Rose and his bandmates will still be appearing at the festival as well as their planned tour dates.
A statement issued says:
"(We) are informed by GN'R management that Guns N' Roses have NOT cancelled their performances at Reading & Leeds and that Axl Rose's Twitter account was hacked into and all claims of dates being cancelled are unfounded."
(by David Renshaw)