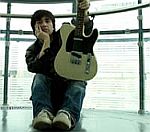 Former
Smiths
guitarist Johnny Marr has admitted he finds the constant speculation over whether the band will reform "tiresome".
Tabloid reports last week claimed that the group, who split in 1987, were to embark on a series of live shows in 2009.
But the guitarist said in a statement yesterday (December 16th) that the rumours were "as usual untrue".
In an interview with BBC 6Music, Marrr reaffirmed his statement but also admitted that he could understand the speculation "to an extent".
"It gets a bit tiresome really, especially when you're doing new stuff and you are working hard on new stuff that you think is great," he said.
"I have to say, it is a very British phenomena. I'm proud of coming from here but you don't get it anywhere else."
He added: "I can understand it to an extent but not the way it is now when it becomes the predominant news story for a week, when there's all this other stuff going on in the world and for other bands and that.
"I'm still very proud of the band and really, really pleased that people still really care, but what are they caring about? Is it the music or the event, or the phenomena of the reunion thing?"
A reformation of the band's original line up would mark the first time singer Morrissey, Marr, Andy Rourke and Mike Joyce have performed together since their split.
(by Jason Gregory)