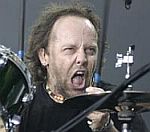 Metallica
drummer Lars Ulrich has insisted that nothing is wrong with the audio quality of the band's new album, '
Death Magnetic
'.
The CD release of the album has been described as too loud by fans, who claim it doesn't sound as clean as the edition that's available via the video game Guitar Hero.
Speaking to Blender Magazine, Ulrich said: "Listen, there's nothing up with the audio quality. It's 2008, and that's how we make records."
Ulrich defended the production of Rick Rubin, which has also come under fire.
"Rick Rubin's whole thing is to try and get it to sound lively, to get it sound loud, to get it to sound exciting, to get it to jump out of the speakers," he said.
"Of course, I've heard that there are a few people complaining. But I've been listening to it the last couple of days in my car, and it sounds fuckin' smokin'."
The drummer blamed the internet for magnifying the "few people" who had complained about the record.
"A lot of people say (the CD) sounds great, and a few people say it doesn't, and that's OK," Ulrich said.
"The difference between back then and now is the internet. The internet gives everybody a voice, and the Internet has a tendency to give the complainers a louder voice."
(by Jason Gregory)