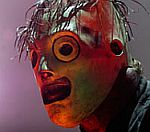 Slipknot
front man Corey Taylor has revealed that he blames the record labels for rise in illegal downloading.
"Why would you blame [people who download music]?", stated Taylor to Kerrang Magazine.
"Half the fucking albums that are out there are shit. I don't download, but at the same time, I don't buy new music 'cause it all sucks."
"Okay, there's a handful of bands that I buy, but other than that, I just buy old shit because old shit is good. Sorry!"
"People wanna blame the decline of album sales on downloading, I think it's actually the record companies' fault," he continued.
"I think it's the quality of the product. If record companies would stop giving any fucking mook on the street with a fringe a record deal or their own record label, maybe you would sell more fucking albums, dipshits."
Slipknot's latest effort, 'All Hope Is Gone' debuted at #1 on the Billboard charts edging over Los Angeles rapper The Game by 1,134 copies.
(by Victoria Tsigonis)